Picture Windows in Dallas TX
The Best Window Installation & Replacement Window in Dallas | Offers Premium Replacement Windows.
Save $200 Off Every Window with the TIME MANAGEMENT SAVINGS PACKAGE!
High-Quality Picture Window Replacement
Discover the charm of picture windows that bring an unparalleled view of Dallas's skyline right into your home. Our specially crafted windows are designed with high-grade materials that ensure durability and aesthetic appeal. The sleek design not only enhances your home's exterior but also complements your interior décor, creating a seamless blend of style and function.
Experience the myriad benefits that accompany our picture windows. Firstly, they are incredible energy savers, thanks to their superior insulation properties that help maintain your home's temperature, cutting down on energy bills. Secondly, they offer unmatched natural light, filling your spaces with a soft, ambient glow that fosters a warm and inviting atmosphere. Lastly, our picture windows are low maintenance, requiring minimal effort to keep them looking pristine year-round.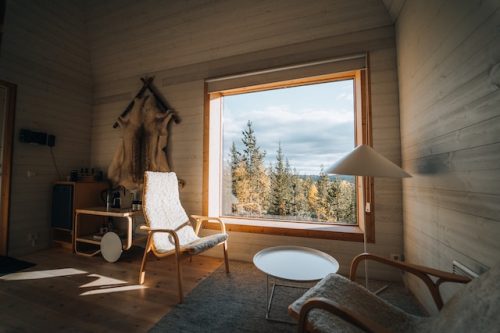 When it comes to size and dimensions, we understand that every home is unique. That's why our team offers a range of sizes to perfectly fit the specific needs of your space. Whether it's a grand, expansive view you seek or a smaller, cozier outlook, we have the right fit for your home. Our customization options ensure that your new windows will be the perfect addition to your property.
Caring for your new picture windows is a breeze. A simple, regular cleaning with mild soap and water is all it takes to keep them shining and clear. Avoid harsh chemicals and abrasives to maintain the integrity of the glass and frames. With this easy upkeep, your windows will continue to offer a beautiful view and enhance your home's appeal for years to come.
The Many Styles of Picture Windows Available in Dallas
When it comes to picture windows in Dallas, homeowners have numerous style options to consider. At Dallas Window Replacement, we offer all the most popular picture window configurations to match any home design and meet your unique needs.
Single Hung Picture Windows
Single hung picture windows remain a favored choice for good reason. This traditional style offers a large fixed windowpane with a smaller operable sash window above that raises to open for ventilation. The operating sash allows you to control air flow while the larger fixed portion provides unobstructed views.
We offer single hung picture windows in vinyl, wood, aluminum, and fiberglass. Vinyl is a budget-friendly option with low maintenance, while wood offers a classic aesthetic. Fiberglass and aluminum give you strength and durability. The sash can lift out completely for easy cleaning access too.
Double Hung Picture Windows
Double hung picture windows feature two movable sashes that both open vertically past each other, providing great ventilation capabilities. This makes them an excellent option for rooms where you want increased airflow or egress.
At Dallas Window Replacement, our double hung picture windows come in standard and custom sizes to fit your unique space. We also have energy efficient models with features like low-E glass, argon gas filled frames, and insulated vinyl. This style complements traditional architecture beautifully.
Casement Picture Windows
Casement windows are hinged on one side and open outward like a door. This makes them great for catching breezes. Group multiple casements together to create a stunning wall of glass or picture window accent.
Some homeowners love being able to open their entire window for unobstructed views. Our casement picture windows in Dallas come in handy egress designs as well, with large openings for emergency exits. We offer vinyl, wood, aluminum, and fiberglass casements to match your home.
Awning Picture Windows
Awning windows are very similar to casements, except instead of opening outward they are hinged at the top and open upward. This allows them to catch breezes from above while keeping rain out.
Group several awning windows together to form an attractive row of operable glass. We install vinyl or aluminum awning picture windows in custom configurations and sizes for a perfect fit. This unique style looks fantastic in contemporary homes.
Sliding Picture Windows
Sliding picture windows feature two or more sashes that glide horizontally past each other to open. This style is easy to operate and great for smooth airflow. Stack two, three, or more sliders together to form extra wide window expanses.
Our sliding picture windows in Dallas come in durable vinyl or aluminum. We also have energy efficient models featuring weatherstripping, heavy duty screens, and double pane glass. Get sleek modern aesthetics with easy operation. This style works well along exterior walls or as room dividers.
Bay Picture Windows
Bay windows are window spaces that project outward from a home, creating alcoves indoors and architectural dimension outside. They feature angled side windows connected by a central picture window.
With custom built bay picture windows from Dallas Window Replacement, you can add space and views to your rooms. Bays look beautiful in living rooms, dining rooms, bedrooms, and more. We'll build your bay just the right size from durable vinyl.
Bow Picture Windows
Bow picture windows are configured in a gently curved shape, adding architectural interest and expanded views. The curved form makes them ideal focal points in living rooms, dens, and master bedrooms.
Our skilled installers will precisely measure and install your custom bowed picture window to accent your space beautifully. We offer energy efficient vinyl models as well as decorative touches like exterior crown molding. Enhance your room with the graceful elegance of a bow window.
Garden Picture Windows
Garden picture windows feature a central large picture window flanked by double hung or casement windows on each side. This gives you both sweeping views through the fixed middle pane and ventilation capabilities from the operating side windows.
Enjoy the beauty of garden picture windows in vinyl, wood, or aluminum to suit your home's aesthetic. The slim side windows maximize your central picture view. We can also add grids, decorative glass, or other custom touches. Perfect for living rooms and master bedrooms.
Architectural Shape Picture Windows
For homes with unique architecture, we offer picture windows in custom geometric shapes like circles, half-circles, trapezoids, triangles, and more. Architectural shapes create modern interest and make the most of angled expanses.
Our skilled window specialists can build fixed frame custom shape picture windows with durable and energy efficient vinyl or aluminum. We also do operating windows in interesting shapes like circle casements. Enhance hard-to-fit openings and make a unique statement!
Jalousie Picture Windows
Jalousie picture windows contain a series of horizontal overlapping panes that tilt open in unison to allow airflow. This style has a very unique visual look perfect for mid-century homes.
We restore vintage jalousie picture windows or install new models made of aluminum or vinyl for durability, no rotting, and efficiency. Open and close the entire glass area at once. Jalousies glide smoothly and have a neat, clean appearance.
Industrial Picture Windows
Industrial style picture windows help lofts, warehouses, and modern spaces maintain their funky character. We offer industrial windows with metal frames in various patinas and frosted glass for urban appeal.
Mix large industrial picture windows with smaller transom windows, jalousies, and casements in metal to continue the aesthetic. Our artisan metalwork and custom welding give authenticity. Boldly stylish and full of character, industrial windows are on trend.
Transom Picture Windows
Transom windows are small horizontal windows installed above larger windows or doors. They function as design accents and creators of airflow above eye level in rooms.
We recommend transom picture windows to complement casements, double hungs, and even entryways. Transoms made of stained glass, colored glass, or privacy glass look especially attractive. Their slim shape makes them easy to fit above existing openings too!
Glass Block Picture Windows
For obscure natural light with texture, glass block picture windows are a great choice. These windows contain blocks of thick, molded glass mortared into window shapes. Glass blocks refract light in an interesting way.
Glass block picture windows come in smooth, wavy, or prismatic styles. They make perfect bathroom windows due to their obscuring translucency. We also recommend them for front entry sidelights. Create privacy, insulation, and beauty with uniquely charming glass blocks.
With so many styles to choose from, you're sure to find the perfect picture windows in Dallas for your home. We offer fast installation from certified professionals at fair prices. 
Contact Dallas Window Replacement today for a free quote!