Double Hung Windows in Dallas TX
The Best Window Installation & Replacement Window in Dallas | Offers Premium Replacement Windows.
Save $200 Off Every Window with the TIME MANAGEMENT SAVINGS PACKAGE!
High-Quality Double Hung Window Replacement
Looking to replace your old, drafty windows? Double hung windows are a classic and popular choice for Dallas homes. With their simple yet elegant design, these versatile windows offer homeowners a variety of benefits.
Double hung windows feature two movable sashes that slide vertically to open and close. This allows you to control ventilation and adjust airflow as needed. Many models have tilt-in capabilities as well, making cleaning the exterior glass safe and easy.
When properly installed, double hung windows provide excellent insulation. Multiple panes combined with weatherstripping greatly reduce outside noise and improve energy efficiency. This can lead to a quieter indoor environment and lower monthly energy bills.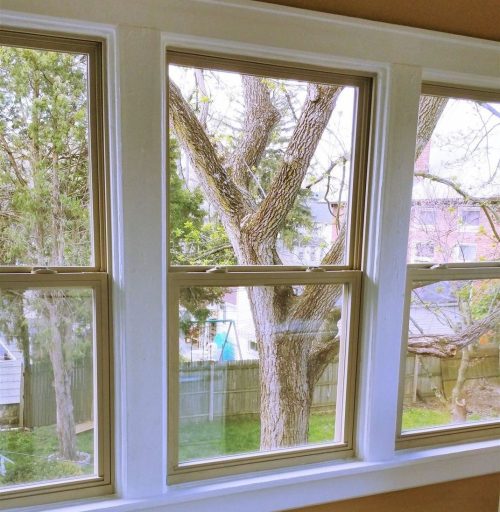 Proper care will keep your new windows looking their best. Clean the glass regularly with a mild cleaner and soft cloth. Lubricate the tracks periodically to ensure smooth operation. Avoid forcing the sashes, as this can damage the balance mechanisms. With just a bit of routine maintenance, double hung windows will provide lasting beauty and performance.
Replacing old windows can make a dramatic difference in the comfort and appeal of your home. With their timeless style and practical functionality, double hung windows are a wonderful option for the Dallas climate. 
Exploring the Versatility and Beauty of Double Hung Windows: Colors for Every Dallas Home
Welcome to Dallas Window Replacement, where we specialize in enhancing your home with the perfect windows. We are introducing you to our double hung windows, specifically focusing on their color options. Our extensive range promises to meet your aesthetic and functional needs, ensuring your home stands out in the Dallas landscape.
Colors are not just a matter of personal taste; they play a crucial role in defining the character and ambiance of your home. In Dallas, where the architectural styles range from traditional to modern, the right window color can accentuate your home's features, increase curb appeal, and even impact its perceived value. Our color options for double hung windows are carefully selected to complement a wide array of home styles.
Classic White: A Timeless Choice
White has been a perennial favorite for double hung windows, offering a clean, crisp look that works seamlessly with any exterior. It reflects sunlight, keeping your home cooler during the hot Dallas summers. Plus, white windows provide a neutral backdrop, ensuring they look great with any wall color or material.
Earthy Tones: Tan and Brown
For those who prefer a more natural, subdued look, our tan and brown windows are ideal. These colors blend beautifully with stone, brick, or wooden exteriors, offering a warm and inviting appearance. They're especially popular in Dallas's traditional and ranch-style homes, adding a touch of elegance and timelessness.
Bold Black: Modern and Sophisticated
Black double hung windows are a trendsetter in contemporary home design. They create a striking contrast, especially when paired with lighter-colored walls. In Dallas's modern neighborhoods, black windows are a statement of sophistication and style, offering a dramatic and cutting-edge aesthetic.
Custom Colors: Personalize Your Windows
At Dallas Window Replacement, we understand the uniqueness of each home. That's why we offer custom color options for your double hung windows. Whether you're looking for a specific shade to match your exterior or a unique color to stand out, our custom solutions cater to your individual preferences.
Grid Patterns: Adding Character to Colors
The beauty of double hung windows is further enhanced by grid patterns. With options like Colonial, Prairie, Diamond, and Craftsman, you can add an extra layer of style to your colored windows. These patterns not only augment the window's appearance but also contribute to the overall aesthetic of your home.
Enhancing Energy Efficiency with Color Choices
Did you know that the color of your double hung windows can influence your home's energy efficiency? Lighter colors like white and tan reflect more sunlight, contributing to a cooler interior in the hot Dallas climate. Darker shades such as black absorb heat, which can be beneficial during cooler months. At Dallas Window Replacement, we combine color with energy-efficient features like Low-E glass and argon gas filled panes, ensuring that beauty meets functionality.
At Dallas Window Replacement, our commitment is to provide you with double hung windows that are not just functional but also a true reflection of your style and the essence of your home. With our wide range of color options, we ensure that your windows are a focal point, enhancing both the interior and exterior appeal of your Dallas home.
Claim your FREE Estimate Today!