Awning Windows in Dallas TX
The Best Window Installation & Replacement Window in Dallas | Offers Premium Replacement Windows.
Save $200 Off Every Window with the TIME MANAGEMENT SAVINGS PACKAGE!
High-Quality Awning Window Replacement
Our team knows that beautiful, functional windows can make all the difference in a home. Awning windows in particular provide an elegant touch and also maximize ventilation and natural light. The sleek design features windows that are hinged at the top and open outward. When open, the windows provide generous airflow while still providing shade and coverage on rainy days.
Awning windows are an excellent choice for areas like over the kitchen sink or other places where you may want ample ventilation but also want coverage from the elements. The windows tilt open while remaining securely attached at the top. This allows fresh air to circulate while preventing rain from blowing in. The windows can also be easily closed and locked when not in use.
Our team pays close attention to durability and quality when installing awning windows. They are constructed from durable vinyl or aluminum-clad wood so they can withstand years of use. We carefully measure and customize the size of each window to perfectly fit your unique space. Everything is sealed and installed securely.
Caring for awning windows is also easy. Simply wipe down the vinyl or aluminum exterior with a soft cloth and mild cleaner as needed. Vacuum out any dust and debris from the window tracks. Our team is always available if the windows ever need any repairs or adjustments.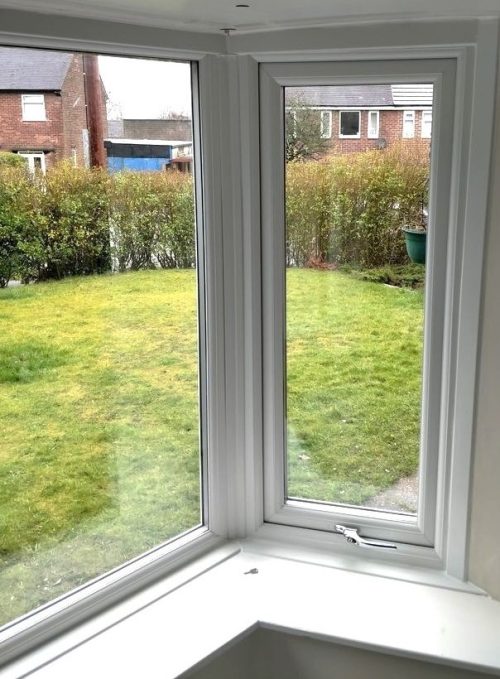 Awning Windows: A Popular Choice for Homes in Dallas, TX
Awning windows are a go-to choice for many homeowners in Dallas looking to add ventilation, charm, and curb appeal to their houses. With their unique outward-swinging operation, awning windows stand out for offering expansive views and an airy ambiance. Their combination of aesthetics and functionality makes them a favorite of discerning homeowners in the area.
When it comes to materials, Dallas homeowners can choose vinly, aluminum, or wood awning windows. Vinyl is known for its affordability, low maintenance, and energy efficiency. Aluminum offers durability and a contemporary look. Wood provides a classic, timeless aesthetic.
Awning Window Color Options
A quintessential classic in our expansive portfolio, these windows seamlessly meld adaptability with superior efficiency. Characterized by the double hung windows' ability to slide vertically, they enable maximum airflow. This, combined with their timeless design, ensures that double hung windows are always in demand, meeting the requirements of a diverse clientele, from vintage home enthusiasts to modern condo dwellers.
Energy Efficient Features
Energy efficiency is a key priority for Dallas homeowners. Awning windows offer excellent options like Low-E glass, double glazing, and argon gas fills to reduce energy costs.
For operation, crank and push-out styles allow easy opening and closing. Hardware options include features like pulls, locks, and hinges in finishes like brass, satin nickel, and black.
Installation and Warranties
Homeowners can choose professional installation or DIY for simpler awning window projects. Most come with robust warranties like lifetime limited or 10 years.
Types of Awning Windows We Offer for Dallas Homes
Single Awning Windows
Casement – This style of awning window is hinged on one side and uses a crank mechanism to open outward. Casement awnings can open fully to allow maximum ventilation into a room.

Push-out – With push-out awnings, the window is top-hinged and swings outward when manually pushed open. This style is very easy to operate for homeowners.

Top-hinged – Top-hinged awnings are hinged at the top and use hardware like presses or latches to open outward. The simple function makes them easy to use.
Double Awning Windows
Side-by-side – This configuration joins two single awning windows side-by-side. It allows for very large window openings without the need for one massive custom window.
Stacked – Stacked double awnings have two windows positioned vertically. This is ideal for increasing window height without expanding width
Triple Awning Windows
Three awning windows joined horizontally – By joining three awning units horizontally, homeowners can create an extra wide panoramic view. The triple configuration is dramatic.
Custom Configurations
Bay – Bay windows have three or more window units set at angles to create a protruding bay shape. The angled awning windows open up space.
Bow – Bow windows use four or more bowed or curved awning windows to create a widened viewing area. The smooth curve adds architecture interest.
Corner – Corner windows utilize awnings on both walls of a 90-degree corner. This allows light from two directions.
Benefits of Awning Windows
Awning windows offer Dallas homeowners many benefits beyond just versatility and curb appeal. Here are some of the top advantages that make awnings a sought-after choice:
Choosing the Right Awning Windows
With all their virtues, it's important for Dallas homeowners to choose the right awning windows for their particular needs:
With smart planning and selection, Dallas homeowners can install beautiful, functional awning windows that check all the boxes and enhance their living spaces. Consult our window experts to ensure you find the perfect awning windows for your needs and budget.
Claim your FREE Estimate Today!