The Best Window Installation & Replacement Window in Dallas | Offers Premium Replacement Windows.
Save $200 Off Every Window with the TIME MANAGEMENT SAVINGS PACKAGE!
High-Quality Bow Window Replacement
Gazing out expansive windows ushers in the beauty of the outdoors. Curved glass bow windows in Dallas homes create an arched window space that invites light to fill the room. The graceful rounded shape adds elegance to any space.
The ample window area bow windows provide gives way to panoramic views. Enjoy looking out over your property while seated next to the smooth curve of glass. Frame charming scenes from within the comfort of your home.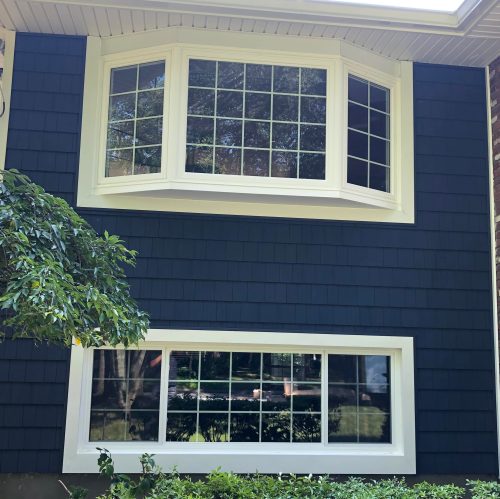 Customizable dimensions allow bow windows to be sized according to your room and preference. Consult with window specialists to determine the proportions that will enhance your space. Care for these windows as you would standard windows, with occasional cleaning and maintenance as needed.
Welcome extra light and beauty into your home with the addition of striking bow windows. Their unique shape makes them an eye-catching focal point. Position bow windows to take in sunrises, sunsets or any inspiring sights visible from your home. Let their expansive views and natural light brighten up your rooms.

The Variety of Bow Window Styles Offered by Dallas Window Replacement
When considering new bow windows for your Dallas area home, one of the most exciting aspects is choosing the perfect style to complement your architecture. The gracefully rounded shape of bow windows provides an elegant accent to enhance any room, while the expanded glass area floods the space with ample natural sunlight. With the versatility of styles available, you can find beautiful bow windows to match any home aesthetic.
Craftsman Bow Windows Reflect Rustic Charm
The charming craftsman style features simple yet attractive detailing that exudes cozy and rustic character. Craftsman bow windows help cultivate a welcoming ambiance with their uncomplicated designs, often featuring double-hung windows framed by wood trim and muntins. The organic style plays well in Arts and Crafts homes as well as farmhouse or cottage spaces.
Clean-Lined Contemporary Bow Windows
For a sleek modern look, contemporary bow windows present a polished aesthetic with their minimalist details and simple frames. Stylish contemporary bow windows containing large fixed-pane windows won't detract from your sophisticated décor. Their streamlined silhouette complements both modern homes and contemporary renovations of traditional spaces.
Victorian Bow Windows Evoke Timeless Elegance
Known for ornate details, Victorian style brings irresistible old-world charm and elegance to your home. Decorative glass patterns and detailed woodwork on Victorian bow windows add a touch of grace. Beautiful stained glass transom windows can accentuate the top of the bay. For a neo-Victorian look in newer homes, seek simpler profiles with classic lines.
Cottage-Style Bow Windows Encourage Coziness
Inviting cottage bow windows help cultivate cozy charm with their quaint appearance. Characteristics like double-hung windows with divided panes, whitewashed frames, and simplified trim details evoke breezy cottage style. Paired with sweet accents like cafe curtains for added privacy, cottage bow windows lend an easy, relaxed feeling.
Tudor Bow Windows Contribute Historic Grandeur
Distinguished Tudor style bow windows outfitted with small-pane leaded glass windows or real wood frames add a touch of stately elegance reminiscent of medieval England. Opt for an arched top window to complement the iconic Tudor arch shape often seen on the home's front facade. For authentic appeal, request wood exterior cladding on the bay window seating area.
Transitional Style Marries Traditional and Contemporary
The best of both worlds, transitional style bow windows blend elements of traditional and contemporary design for a versatile, inviting look suitable for many home types. Often combining clean lines, simple molding and muted colors associated with modern style with classic double-hung windows, this versatile style effortlessly bridges past and present.
Colonial Bow Windows Display Historic Allure
Classic colonial windows with crown glass windows, painted frames, brick or clapboard exterior trim and minimal ornamentation embody early American style. Double-hung windows with divided windowpanes are characteristic of the colonial look. For a historic coastal feel, painted a soft white or blue. Ornate window pediments add stately distinction.
French Country Bow Windows Encourage Joie de Vivre
Evoke the casual elegance of pastoral French living with country-style bow windows. Double casements, divided windowpanes and whitewashed frames set a relaxed romantic mood. Soft floral curtains, a window bench and potted plants complete the allure. Choose wood frames in oak or fruitwood tones over bright white for a French farmhouse vibe.
Prairie Style Bow Windows Promote Natural Serenity
Frank Lloyd Wright's prairie homes popularized windows that integrate indoor and outdoor space. Prairie style bow windows feature geometrical lines and an earthy color palette. Band of casement windows invite the outdoors in. Occasional leaded glass accents add organic interest. The low-profile shape blends seamlessly into prairie facades.
Rustic Log Home Bow Windows Merge Nature and Dwelling
Bring the beauty of the outdoors inside with rustic log cabin bow windows. Opt for rounded log corners and natural wood finishes to continue the exterior's textured organic theme indoors. Twisting vine patterns and bear or moose silhouettes in stained glass add quirky whimsy. Rustic bow windows encourage living among nature's splendor.
Mediterranean Style Bow Windows Capture Old-World Allure
Recalling idyllic seaside living, Mediterranean bow windows add exotic flair with iron scrollwork accents, stained glass and ornate woodcarvings. Arched transom windows and wheel designs echo Moorish and Spanish architecture. Wrought iron window boxes overflowing with blossoms enhance the romantic flavor. Vivid colors like teal and yellow reflect the Mediterranean's vibrant spirit.
Gothic Revival Bow Windows Inspire Awe and Wonder
Gothic architecture's soaring vertical lines, pointed arches and exaggerated details create bow windows that inspire awe. Floor-to-ceiling double-hung windows create a feeling of grandeur and space. Add color and whimsy with stained glass gothic patterns. The stately style adds a palpable spirit to churches and university buildings. Use judiciously in dramatic formal spaces.
For a stylish focal point that fills your home with beauty and natural light, ensure your bow windows reflect the style of your home. Consult our experts to explore the many possibilities. With bow windows' graceful versatility, you're sure to find windows to match your personal flair.
Contact our team today and GET A FREE QUOTE!